Not only do we offer spirits made from American soul, we have the ultimate recipes for fun. Salute!
Salute Bloody Mary:
3 oz. Salute American Vodka
4 oz. tomato juice
2 tbsp Worcestershire sauce
1 tsp Sriracha
1 tsp prepared horseradish
1 tsp celery salt
2 Manzanilla stuffed olives
3 cubes cheddar cheese
1 pepperoncini
1 stalk of celery
1 slice of lime
1 slice of lemon
Salt & pepper
Add olives, pepperoncini, and cheese cubes onto a bamboo skewer. And set aside.
Mix salt and pepper on a small plate, wet the rim of the glass with the lemon wedge, tip over, and coat with salt and pepper. Fill with ice and put glass to the side. Garnish with lemon and lime wedges, celery, and skewer.
In an ice-filled shaker, combine the rest of the ingredients. Shake thoroughly, pour into glass, and enjoy! Makes one serving.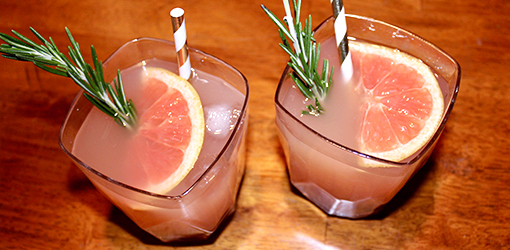 Grapefruit Rosemary Cocktail:
Simple syrup:
2 cups water
2 cups sugar
6 sprigs rosemary
In a small sauce pan over medium low heat, dissolve the sugar into the water for about 5 minutes. Do not let the mixture boil or crystals will form. In a heat safe container, pour the warm sugar water mixture over the rosemary sprigs and let it steep for at least 1 hour.
Cocktail:
2 oz. Salute American Vodka
½ oz. rosemary simple syrup
4 oz. grapefruit juice
Rosemary for garnish
In a glass filled with ice combine the vodka, rosemary simple syrup and grapefruit juice. Garnish with a sprig of rosemary. Cheers!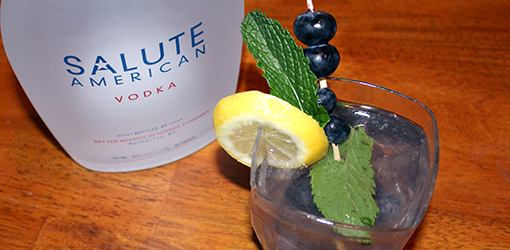 Blueberry Blitz:
2 oz. Salute American Vodka
6 oz. soda water
12 blueberries
1/4 + 1 slice lemon
1 mint leaf
Muddle half the blueberries in a glass. Add ice, Salute American Vodka, and squeeze in lemon juice. Top with soda water and garnish with blueberries, lemon slice, and mint. Enjoy!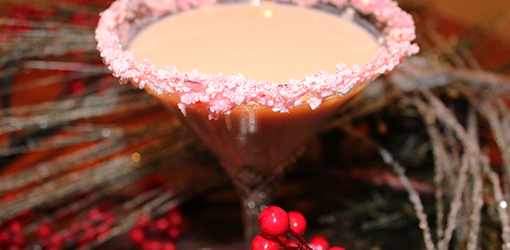 Candy Cane Martini:
4 small candy canes
3 oz. Salute American Vodka
3 oz. Baileys Irish Cream
Crush two small candy canes and add to a sealable jar. Add Salute American Vodka and tighten lid until airtight and let sit for one day. Once ready, pour Baileys and Salute American Vodka into a martini shaker filled with ice. Pour into two martini glasses and garnish with candy cane. Enjoy!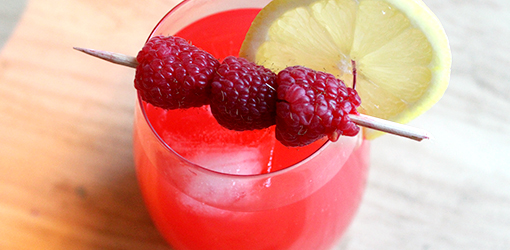 Salute Raspberry Lemonade:
4 oz. Salute American Vodka
1 can lemon San Pellegrino
4 oz. raspberry syrup
Fresh raspberries and lemons for garnish
Fill 2 glasses with ice. Pour 2 oz. of vodka into each glass. Top with ½ can of lemon San Pellegrino in each. Top with raspberry syrup and garnish. Cheers!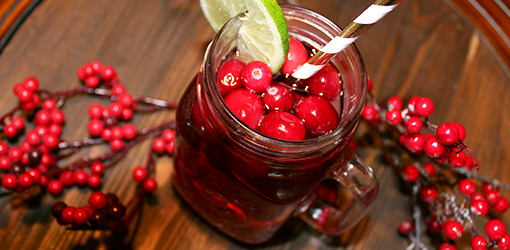 Cape Cod Breeze:
2 oz. Salute American Vodka
2 oz. soda water
2 oz. cranberry juice
Combine Salute American Vodka, soda water, and cranberry juice in a glass with ice. Garnish with a slice of lime and fresh cranberries. Enjoy!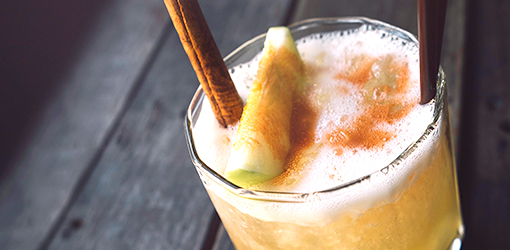 Apple Cider Cocktail:
8 oz. apple cider
3 oz. Salute American Vodka
Ginger beer
Cinnamon sticks
Apple slices
Fill two glasses with ice cubes and keep in the freezer while making the cocktail. In a shaker, pour in the apple cider and vodka and give it a mix. Pour the mixture into the cold glasses and top both off with ginger beer. Garnish with cinnamon stick and apple slices. Enjoy!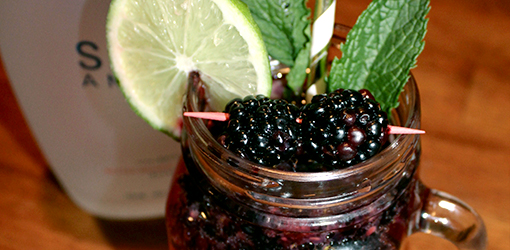 Blackberry Lime Mule:
6 blackberries
2 oz. Salute American Vodka
Juice of half a lime
Ginger beer
Lime and blackberries for Garnish
In two glasses put three blackberries in each and muddle together. Add ice to each glass. In shaker add ice, vodka and lime juice and shake. Pour into each glass and top with ginger beer. Garnish with blackberries and lime. Enjoy!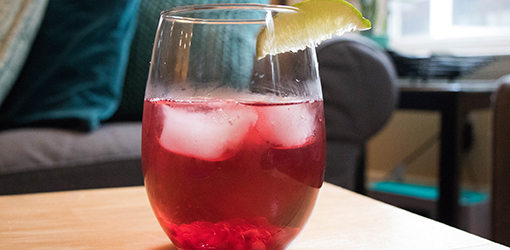 Salute Holiday Sangria:
One 750ml bottle of shiraz
6 oz. Salute American Vodka
12 oz. cranberry juice
1 tablespoon lime juice
1/2 cup pomegranate seeds
8 oz. lime club soda
Combine Shiraz, vodka, cranberry juice, pomegranate seeds and lime juice in a pitcher. Chill in fridge for at least one hour. Add club soda right before serving and pour into glasses filled with ice. Makes 8 servings.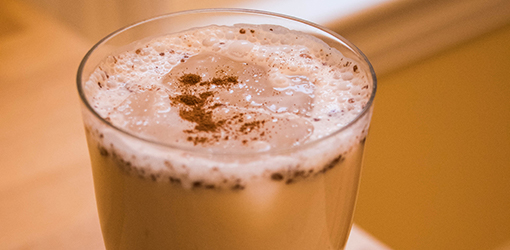 Spiked Gingerbread White Russian:
4 oz. eggnog
4 oz. Salute American Vodka
4 oz. Kahlua
3 tsp. molasses
Dash of cinnamon
Whipped cream (optional)
In a cocktail shaker filled with ice, combine Salute American Vodka, Kahlua, molasses and cinnamon. Shake to combine and pour into two glasses. Then top with eggnog, stir to mix and finally add an optional light topping of whipped cream. Enjoy!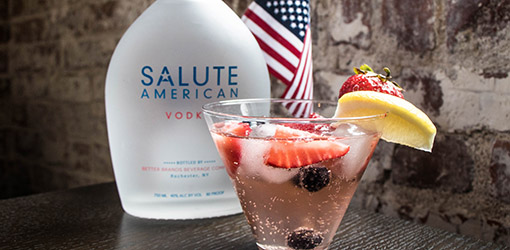 Patriotic Salute:
1.5 oz. Salute American Vodka
1 oz. lemon juice
6 oz. soda water
1/4 cup strawberries and blueberries
Add Salute American Vodka, lemon juice, and soda water into a glass with ice. Top with blueberries and strawberries. Cheers!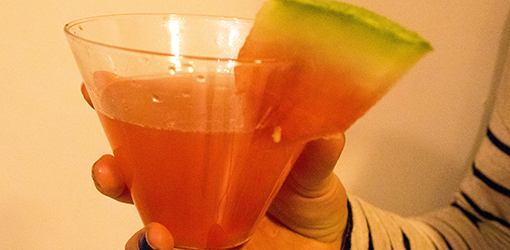 Watermelon Martini:
3 oz. Salute American Vodka
6 oz. fresh watermelon juice
6 mint leaves
Combine mint, watermelon juice, Salute American Vodka, and ice into a shaker. Shake until well mixed, and pour into two martini glasses.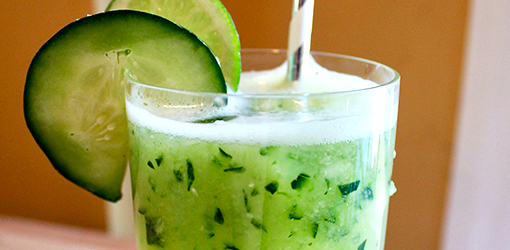 Cucumber Vodka Soda:
1 1/2 cups fresh cucumber juice (2 to 3 seedless cucumbers)
1/2 cup freshly squeezed lime juice
1/2 cup Salute American Vodka
1/4 cup simple syrup
1 to 2 cups cold seltzer water (lime is preferred)
Lime and cucumber slices for garnish
To make the cucumber juice (if you don't have a juicer), puree peeled seedless cucumbers in a blender with a touch of water. Pour the puree through a fine mesh strainer into a large measuring cup.
In a large pitcher, combine the cucumber juice, lime juice, Salute American vodka and simple syrup. Stir well and refrigerate for 1 hour. Pour the mixture over crushed ice and pour in the cold seltzer water. Garnish with lime wedges and cucumber slices. Enjoy!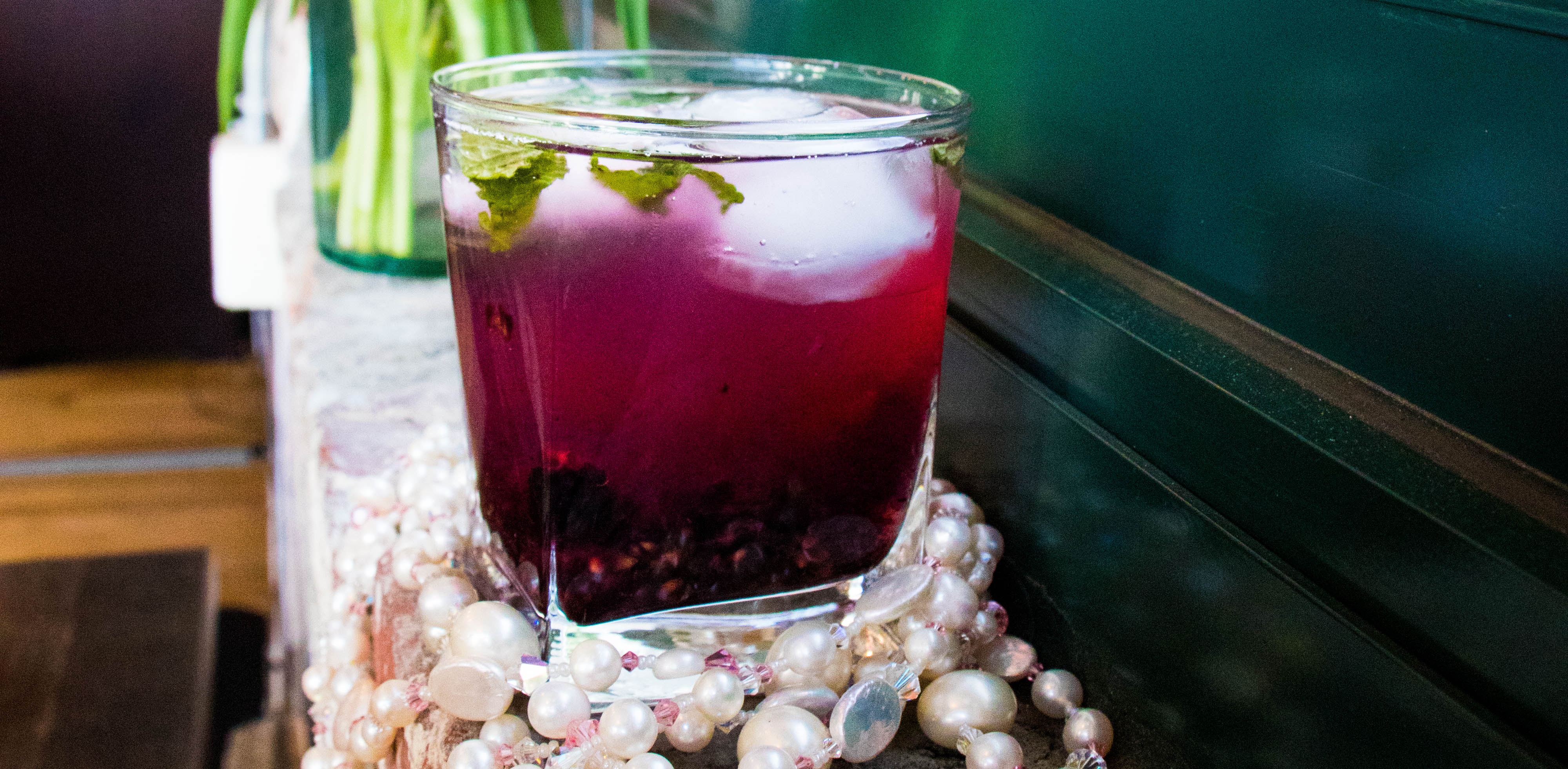 Blackberry-Mint Julep:
6 mint leaves
4 blackberries
2 tbspn simple syrup
1.5 oz. Salute American Vodka
Pour simple syrup into a Collins glass and muddle mint leaves and blackberries. Pour in Salute American Vodka and top with crushed ice.
Looking for More Information?
Find Salute Distributors Near You
Find Upcoming Salute Events