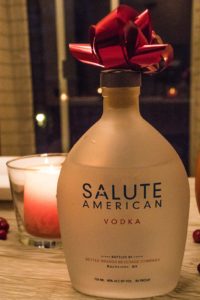 Last night on Thanksgiving, Americans gathered with loved ones to feast on Pilgrim-inspired staples as conversations of gratitude and football fill the air. When the clock struck midnight, the holiday shopping rush kicked offwith Black Friday, which will be followed by Small Business Saturday, Shop for Good Sunday, Cyber Monday, and Giving Tuesday. Show your gratitude for the millions of American heroes who voluntarily put their lives on the line every day to protect our freedom, support American-made products and give back to local heroes with a little help from Salute American Vodka.
Give thanks to American heroes…
For Salute American Vodka, every season is giving season: The first dollar of every bottle sold goes directly to organizations that assist the veteran community. These organizations work to fill the void in government support to help American heroes transition from military to civilian life and into the workforce.
Salute American Vodka works with its distributors and retailers across the country to localize the charitable dollar to help veterans in their communities. The company's nonprofit partners, including Work Vessels for Vets, Inc. and Boulder Crest Retreat, work to provide mental, physical, and financial support for active, wounded, and retired servicemen and women year-round.
Shop local…
A native spirit made for and by Americans in a marketplace infiltrated by foreign vodka brands, Salute American Vodka is USA Certified™; the company is creating American jobs through agriculture, manufacturing, and sales. From the printing of its labels, its signature red, white, and blue military canteen-inspired 750ml bottles, to the spirit inside, Salute American Vodka is 100 percent manufactured and distilled in the United States.
The 80-proof craft vodka is made with corn and wheat grains grown in the Heartland and is distilled four times for a thicker pour and smooth, clean, odorless taste. Salute American Vodka continues to score high amongst its peers. Just this year, the patriotic spirit earned an Ultimate Spirits Challenge Great Value award, a Silver Medal at the San Francisco World Spirits Competition, a gold medal from the LA International Spirits Competition and a Platinum SIP Medal, the second-highest consumer-chosen honor, in the 2017 Spirits International Prestige competition.
Support veterans…
A spirit with soul, Salute American Vodka is a leader for corporate social responsibility in the beverage industry. The company's charitable mission meets growing consumer demand for products that make a positive impact in the world. Roughly 33 percent of charitable giving happens between Nov. 1 and Dec. 31 each year. A recent survey revealed more than 50 percent of Americans and 67 percent of millennials said they are more apt to purchase a gift from a company that contributes to charity than one that does not.
At once, Salute American Vodka is creating a quality spirit for the public while supporting the U.S. economy, creating jobs, and helping give back to American heroes.
This holiday season consider giving the gift that keeps on giving: Salute American Vodka.
Salute American Vodka donates the first dollar of every bottle of vodka sold to organizations that support veterans and other American heroes. To find a restaurant or retailer that carries Salute American Vodka near you, visit our Availability page.