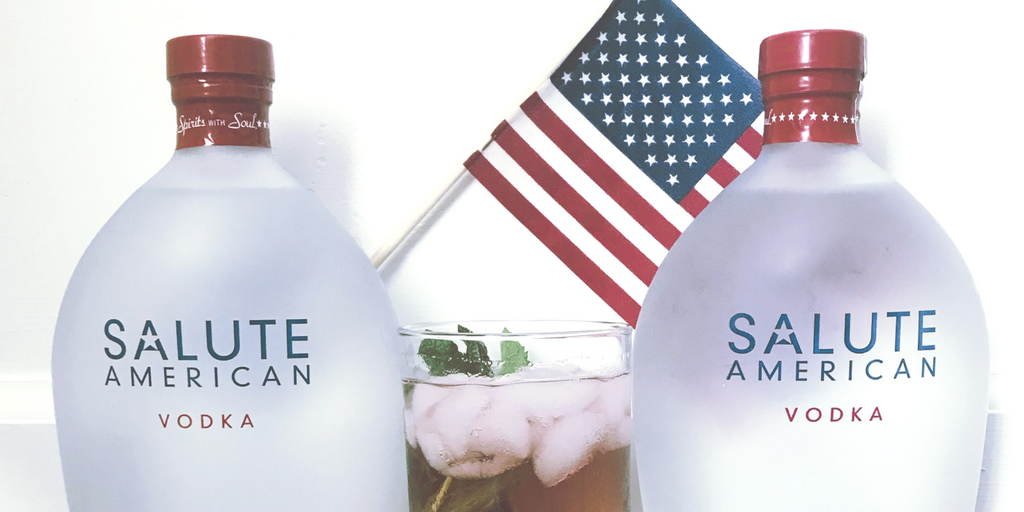 Memorial Day is a time to pause and reflect on the sacrifices of more than one million Soldiers, Marines, Sailors, Airmen and Coast Guard. To remember and honor their courage as they answered the call to duty. Today, we celebrate you and all your glory. Whether you decide to celebrate with a backyard barbecue, picnic or beach bonfire let Salute American Vodka be your right hand man. In true patriotic spirit, for every bottle sold, $1 is donated to a Veterans charity. Consider it your way of giving back and saying, thanks!
We have rounded up 5 summer cocktails with  Salute American Vodka to put your MDW celebrations into full swing:
Berry Striped Salute Cocktail
5 oz Salute American Vodka
¼ oz honey or agave
½ cup strawberries, mashed
½ cup blueberries, mashed
Crushed ice
In a rocks glass,  mix 1.5 oz. Salute American Vodka and 1/4 oz honey. Pour in ½ cup mashed strawberries. Strawberries will settle at the bottom of the glass. Then, creating a layering effect, add crushed ice until glass is nearly full. Top off with a layer of ½ cup mashed blueberries. To finish, garnish with a basil leaf.
Buzzed Cherry Bombs
Salute American Vodka
1 jar maraschino cherries
White chocolate chips
Blue sprinkles or sugar
To make, drain the juice out of a jar of maraschino cherries and replace with Salute American Vodka. Let cherries soak overnight.
Disclaimer: The longer they sit, the stronger they become. 24 hours later, gently pat them dry. In the microwave or using a double boiler melt the white chocolate chips. Once melted, dunk each cherry in the chocolate. Let the excess drip off.
Trick of the trade: Spin the stem to speed up the process. Last, dip each cherry in a bowl of blue sprinkles or decorating sugar to cover the bottom. Enjoy!
Summer Vodka and Mint Lemonade
2 cups Salute American Vodka
4 cups lemonade
½ cup strawberries
1 lime
1 bunch fresh mint
In a mixing bowl, combine Salute American vodka and lemonade. Add in half of the strawberries and mint leaves. Muddle until the fruit becomes slightly smashed. Fill a mason jar with ice, then pour vodka lemonade mixture over the ice. Top with the remaining mint and berries. Garnish with a slice of lime!
Spiked Arnold Palmer
1 oz Salute American Vodka
1 oz clear rum
1 cup sweet tea
½ cup lemonade
1 peach, sliced
Lemon wheel
Mint Sprig
Ice
Using a bar shaker, add liquor, lemonade and half of the sliced peach. Shake well. Pour into mason jar or tall glass and top with with sweet tea. Garnish with lemon wheels and mint.
Watermelon Cooler
1 cup Salute American Vodka
8 cups fresh watermelon, cubed
2 tbsp lime juice
2 tbsp honey or agave
1 cup water
In a blender, add watermelon, lime juice, honey, and water. Blend until fully pureed. Pour through fine mesh strainer to remove pulp and seeds. Add vodka and stir. Pour over ice and garnish with extra watermelon slices. Serve immediately.
Now go ahead… pour, sip and savor the day. Remember, freedom is not free. This weekend, celebrate and remember the service and sacrifice of America's brave heroes.  They have the world's 12 and we have their home 6.
Check our all our favorite Salute American cocktails here!