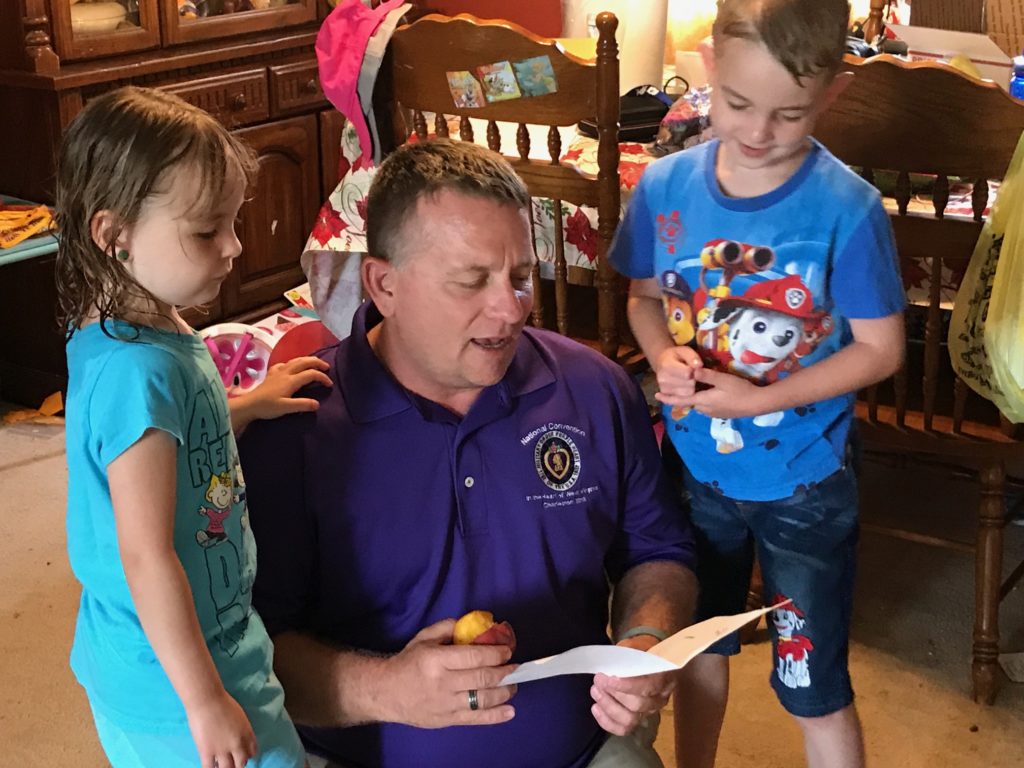 Growing up in rural West Virginia, James McCormick never went to the grocery store for fresh or canned produce. Rather, he gleaned and pickled vegetables from his family's garden, a multi-acre property. After later serving 22 years in the United States Army, McCormick decided to go back to his roots.
"When I came back from the war, I was 40 years old and needed to find my purpose," says McCormick. "I followed the Farmer Veteran Coalition in Florida and saw how agriculture could change people's lives. I decided try my own hand in the business and started Raising Cane Farms."
McCormick enlisted in the Army at the age of 17, following in his family's footsteps. His grandfather was a bomber pilot in World War II; his father was a paratrooper in Vietnam. McCormick started as a private and worked his way up to scout section sergeant, leading 16 soldiers at just 22 years old. Sixteen years later, he completed two tours in Iraq, during which he worked as a branch armor officer for transportation, securing convoys as part of operation Desert Storm and Iraqi Freedom. He was wounded on three separate occasions during combat for which he received three Purple Heart Medals. He medically retired in 2009 as company captain.
Raising Cane Farm, a family-run business, grows and harvests bamboo for food, timber, and crafts and serves as a respite retreat for returning combat-wounded veterans and families of fallen soldiers. The farm houses an education facility for veterans to develop the farming, craftsmanship, and business skills needed to develop and manage their own properties. The organization also employs veterans who work to assist other servicemen and women in their transition to civilian life and into the workforce.
"We are here to help veterans grow their farms from start to finish," says McCormick. "We go to their properties and assess the space, whether it's acres of land or the rooftop of an apartment building. We teach them everything from the basics to beekeeping to how to operate a tractor."
In 2012, McCormick was honored by the Congressional Medal of Honor Foundation with one of America's most prestigious civilian awards, the "Citizen Service Before Self Award," for his work helping veterans to find jobs. There are fewer than 85 living Medal of Honor recipients. The notoriety and contacts McCormick gained from this honor led him to work with the West Virginia Department of Agriculture found Veterans and Warriors to Agriculture, the first farming cooperative of its kind that provides specialized training and enables veterans to share farming equipment and other resources to develop and manage their own agri-businesses.
"Our mission at Veterans and Warriors Agriculture is to mobilize veterans to feed America and to utilize agriculture as a source of therapy and revenue," says McCormick. "None of this work would be possible without the initial help I received from Work Vessels for Vets."
Work Vessels for Vets Inc. is a national organization that equips America's returning veterans with the tools they need to start a business or pursue career education or training. In 2010, the Connecticut-based nonprofit awarded McCormick a $5,000 grant to build roads, secure a towing hitch to his car, and plant bamboo on Raising Cane Farm, all of which helped him to expand operations, generate income, and attract more veterans to the farm.
Since its inception in 2008, Work Vessels for Vets, which is one of Salute American Vodka's charity partners, has assisted more than 1,600 veterans across America with more than $2 million dollars in "vessels," including boats, trucks, computers, cars, tractors, and equipment.
"When veterans return from war, they feel displaced, which often leads to depression," says McCormick. "The support from organizations, like Work Vessels for Vets, puts the ball in the veterans' court to use the tools and resources provided to them to start businesses and become productive members of society, a key to happiness."
Salute American Vodka donates one dollar of every bottle sold to support veteran organizations like Work Vessels for Veterans. To learn more, visit our mission page.